Less pain, more gain after exercise with beetroot juice
Drinking beetroot juice after exercise reduces muscle soreness and helps your muscles recover, according to new research from Northumbria University, published in this month's European Journal of Applied Physiology (EJAP). The authors suggested that the nitrates and betalains in beetroot juice, which have been shown to act as antioxidants, might have aided exercise recovery by preserving muscle function and reducing inflammation.
Read more here
Reduce risk of osteoporosis 
Beetroot contains the mineral silica. This helps the body to utilise calcium, which is important for musculo-skeletal health and reducing the risk of osteoporosis.
To juice or not to juice?
Did you know that eating 200g of cooked beetroot provides the same health benefits as drinking 500ml of juice? So whether you are juicer or a snacker you can easily get your 5-a-day with beetroot!
Beetroot is sadly misunderstood and, when cooked from fresh, it can be amazing. This honey-sweet crimson beauty makes amazing iron-rich salads and soups.

Valentine Warner
Power through your day with a #beetroot power salad. Packed full of nutrients you'll be full for hours. https://t.co/p6g7dg2dBe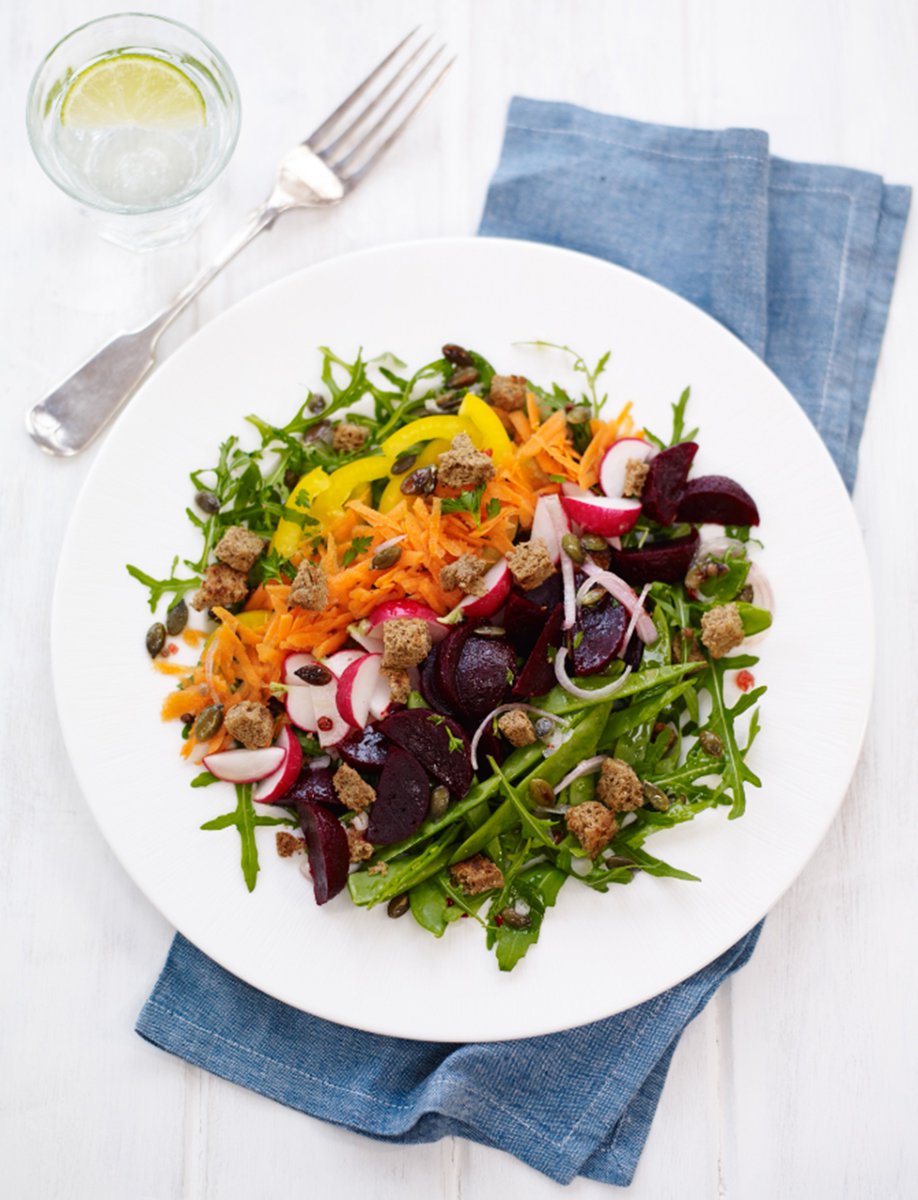 Beetroot is either loved or hated – mostly the latter I suspect, because in this country people have a surfeit of it doused in strong vinegar. But its lovers know of its earthy charm and delicious but distinctive flavour.

Delia Smith
Reginette pasta with beetroot and sour cream sauce

Inspired by Nigella Lawson and her love for reginette pasta, this pretty dish looks decadent but is actually deliciously healthy. The beetroot sauce turns the pasta a pretty pink hue, while the rocket adds a splash of green and a fresh crispness. And if you fancy something a bit more indulgent, try dressing the salad prior to adding the pasta and topping it off with parmesan shavings.